Divya Vachan – Catholic Bible Application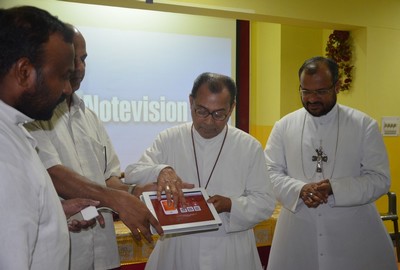 The Archdiocese of Delhi in collaboration with the Jesus Youth International launched the first Hindi Catholic Bible application for mobile devices. The Application is called "Divya Vachan" and is available for free downloads.
It was officially launched in Delhi Archdiocese on 18 July 2012 by His Grace Vincent M Concessao, in the presence of Bishop Franco Mulakkal (Auxiliary Bishop of Delhi) and Fr George Plathotam (Director, NISCORT), Dr John Dayal, Mr M C Michael, Mr Antony AJ (Coordinator, Jesus Youth India) and Mr Shibu Devasia (Sr. Mobile Consultant, EthicCoders). Many senior priests, media persons and youth leaders were present at the launch.
The Bible is available for Android phones on Google play market, BlackBerry devices on BlackBerry App World and for iPhones/iPads on Apple App Store.
The project was the initiative of Fr. Stanley Kozhichira, Spiritual Advisor of Jesus Youth Delhi and Director of Delhi Archdiocesan Media Commission.
It was developed by Shibu Devasia, a Jesus Youth who runs his own company called EthicCoders. The database was provided by BibleMitr.com from Bhopal Archdiocese.
Excerpts from UCAN India Report:
Archbishop Vincent Concessao of Delhi, who officially launched the new program by pressing a button on an tablet, expressed the hope the latest communication technology would help bring young people closer to God. He also urged people to apply the Bible in their lives.

Auxiliary bishop Franco Mulakkal, who was also present at the launch, said what one reads often brings changes in the person and the Word of God can inspire many spiritually and physically.

Salesian Father George Plathottam, secretary of the Indian bishops' social communication office and director of their media training institute, NISCORT, lauded the Delhi archdiocese for adapting to modern world.

John Dayal, member of the National Integration Council, urged the diocese to make use of social media networks such as facebook and twitter to reach out to people.

A. C. Michael, member of the Minority Commission of the Delhi government, wants the archdiocese to set up a commission for information technology and equip each parish with modern technology.
Download Divya Vachan for your mobile phone